CRACKING THE NEET-PG SYSTEMATICALLY
The best method to succeed in any competitive test is not to study hard but is to STUDY SMART and FOCUSED, this ensures a good yield to the effort put in by the candidate. In this context, MEDPG always strives to perfect our smart learning strategies.
Ensuring ideal TIME TO YIELD RATIO
The distribution of the questions among the nineteen subjects is essential as it determines the time allocation in our revision strategy, making a perfect revision plan with this knowledge becomes easier.
2. Ensuring ideal EFFORT TO YILED RATIO: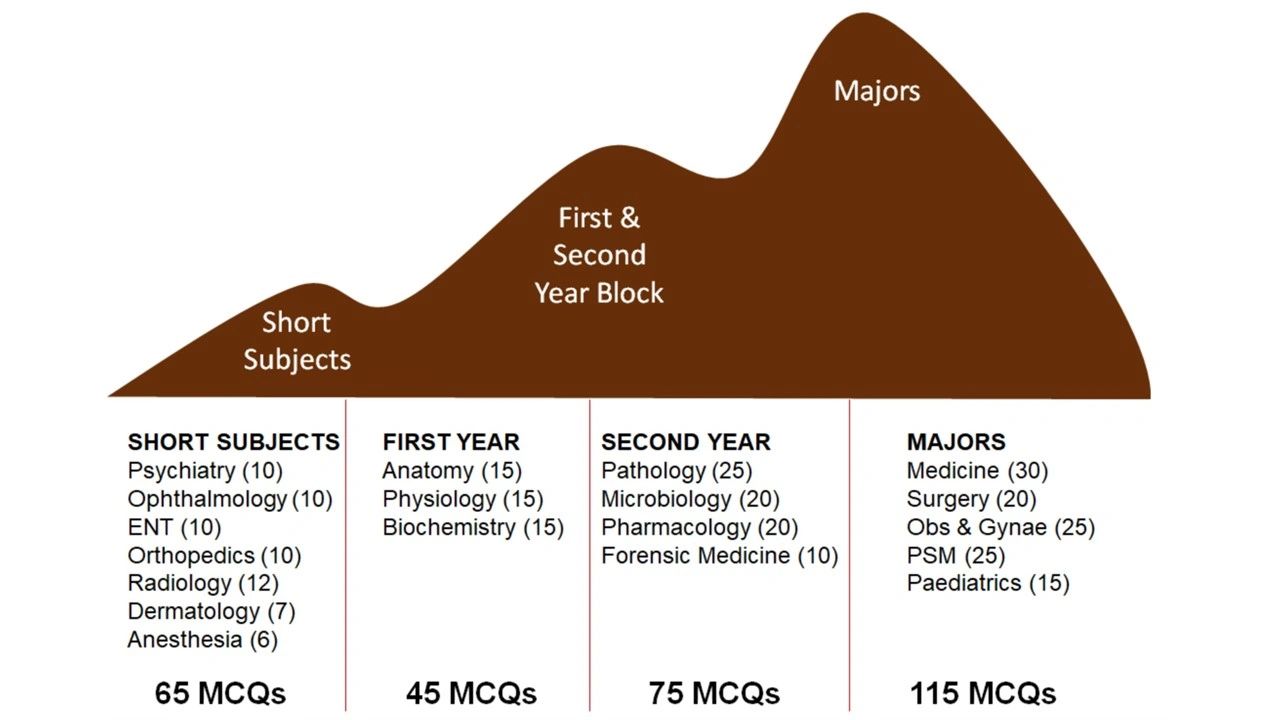 even though the distribution given by NBE is never kept, observation over the last five years of NEET-PG papers has enabled us to come to this distribution. The effort put into each of these will enable you to plan your revision strategy, for more details on how to do this plan, visit the MEDPG BASICS YOUTUBE CHANNEL. If you do not find the answer to your specific queries in our channel feel free to call us.
CHANNEL:
3. ESSENTIAL TOPICS FOR NEET-PG
The is no hard and fast list of solid topics as the priority of these topics will change with each person depending on his/her PLUS & MINUS subjects as described in the video above. One of the best ways to get a yielding and appropriate set of topics list is to go through the last FIVE years of NEET-PG/DNB papers and ( AIIMS, PGI, JIPMER is aiming for higher centres) isolate the topics and then group them, its a tedious process but medpg has done it for our students.
EXAMPLE DERMATOLOGY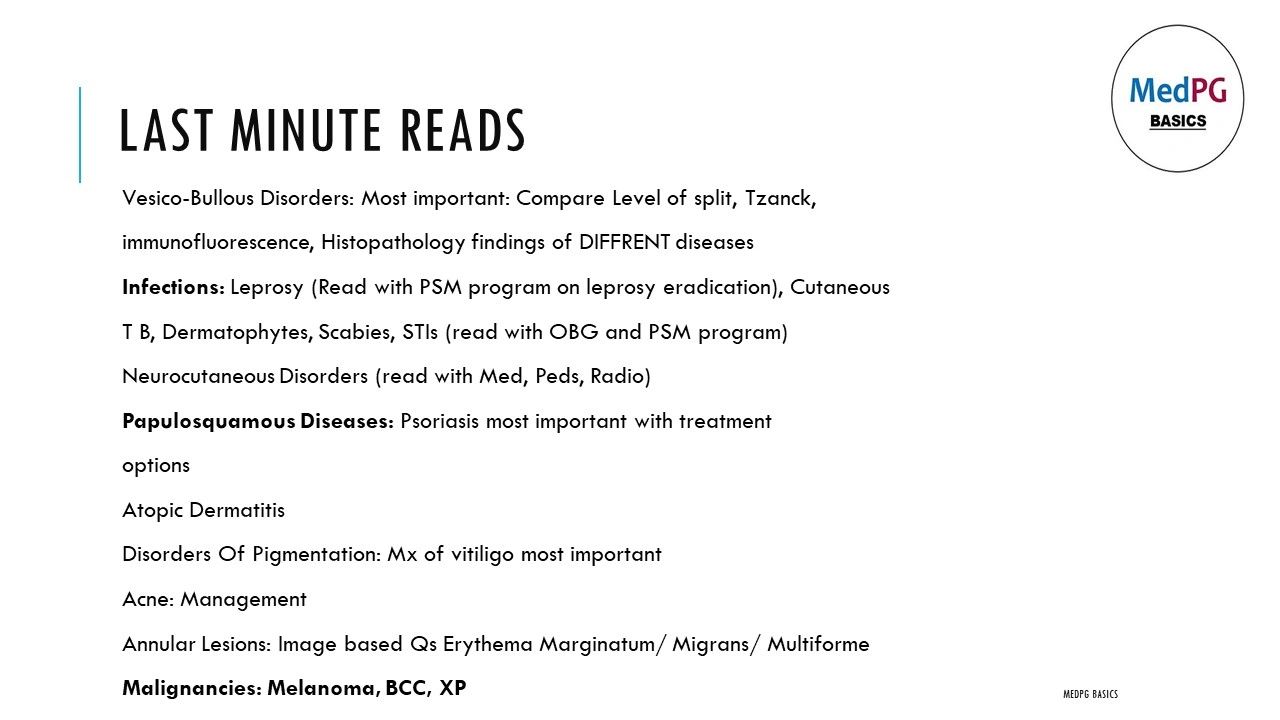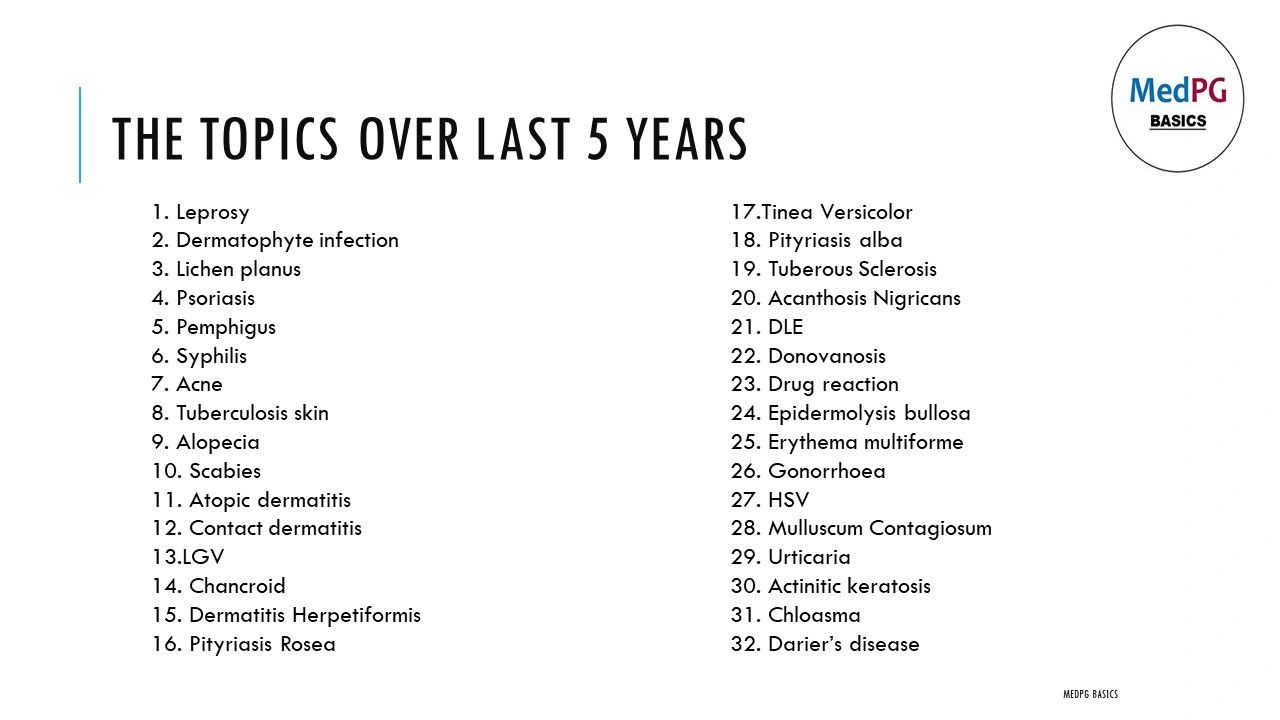 4. ENSURING YOUR EDGE OVER OTHERS
The final step in this process of progressive improvement will be to ensure that edge over the others by excelling in your PLUS SUBJECTS, also covering the niche areas of GENETICS, DRUGS, MOLECULAR BIOLOGY, & NUMERICALS.
This can be done by repeated reading of concise notes curated to the purpose of easy readability and reproducibility.
5. ENSURING THE TARGETS ARE ACHIEVED
The final step will be consistency and focus on executing your plan, this is best done by setting achievable goals and ensuring religious commitment to these goals!